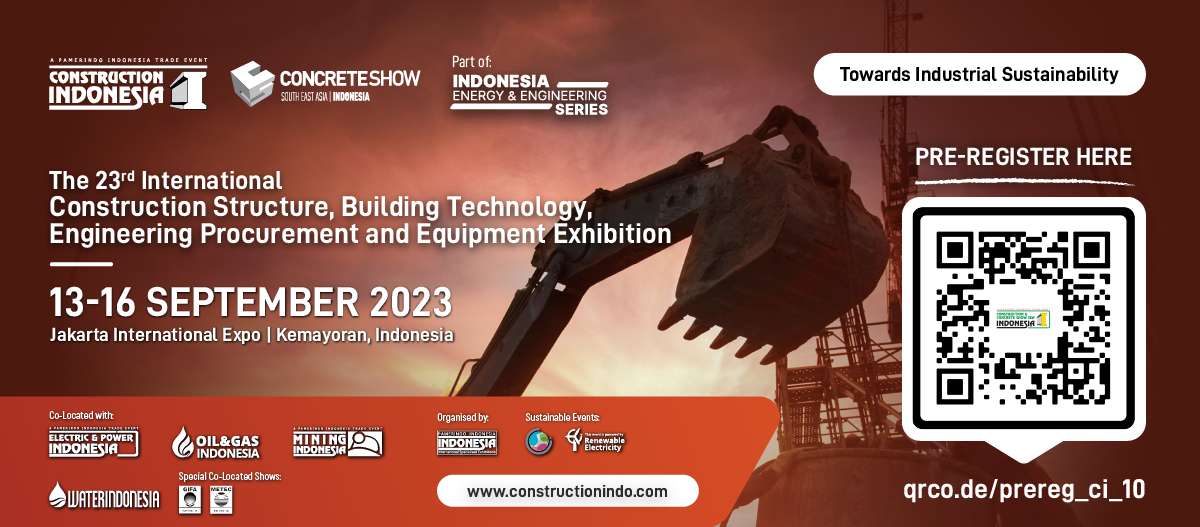 CONSTRUCTION INDONESIA &
CONCRETE SHOW SOUTHEAST ASIA 2023
VISITOR PRE-REGISTRATION IS OPEN NOW!
Get the 4-days access to the largest industrial gathering in Southeast Asia by pre-registering now!
In its 23rd Edition, Construction Indonesia has established itself as the largest and longest – run exhibition in Indonesia's Construction industry. Throughout its long history, the show has successfully attracted leading industry professionals and decision makers. It is the best platform to network and meet potential buyers and get in touch with some of the latest innovation in the Construction Industry.
Mark the date to attend Construction Indonesia
and Concrete Show Southeast Asia!
13-16 September 2023
Jakarta International Expo, Kemayoran.

Thought Leadership Programmes
Within the exhibition, we will conduct seminars which will be held on-site and also accessible on online platform. The seminars will cover various topics and lead by expertise and stakeholders
Exhibitor Live Demonstrations
Explore various products and services' latest technologies and innovations. Visitors can explore through both energy and engineering sectors.
One-on-One Business Matching
Join the business matching programme and get the chance to connect with our exhibitors to grow endless business opportunities.
This year's show will feature new co-locations with GIFA Indonesia & METEC Indonesia. The show will showcase the latest advancements, trends, and technologies in the foundry, metallurgy, metalworks, and metal industries. This collaboration with Messe Dusseldorf Asia is sure to attract key players from these industries.
SPECIAL CO-LOCATED EVENTS

SUSTAINABILITY IS US!
We know sustainability is increasingly important to our attendees and exhibitors, as well as to our market as a whole. Running an exhibition gives us lots of opportunities to improve our impacts environmentally, socially, and economically in our host cities. We want to make our event more responsible and play a role in helping our markets improve its own sustainability through connecting people with the networks and knowledge they want to help solve the big challenges in our sector.
The show will cover 12 out of 17 UN Sustainable Development Goals (SDGs) which can be seen across all show activities.
INTERESTED TO PARTICIPATE IN OUR 2023 SHOWS?
Contact our team below for more information
For more info, please contact :
ORGANISERS - INDONESIA
Rachel Pardede
+62 812 9850 9799
rachel@pamerindo.com
INFORMA MARKETS - ASIA | SINGAPORE
Carolyn Lee
+65 6989 6555
carolyn.lee@informa.com
INFORMA MARKETS - WORLDWIDE | LONDON
Shaun White
+44 79 7688 7088
shaun.white@informa.com